Is the battery removable?
The battery is removable, and can be charged on or off unit.
How do I assemble the vacuum?
Insert the wand into the floor nozzle.
Insert the handheld vacuum into the wand.
For proper operation, ensure all parts are firmly clicked into place. 
How do I charge the battery and how long does it take to charge?
Charge the battery by plugging the charger into the port on the handheld vacuum. Use only Shark® chargers and charging docks.

The battery should take approximately 3.5 hours to reach a full charge.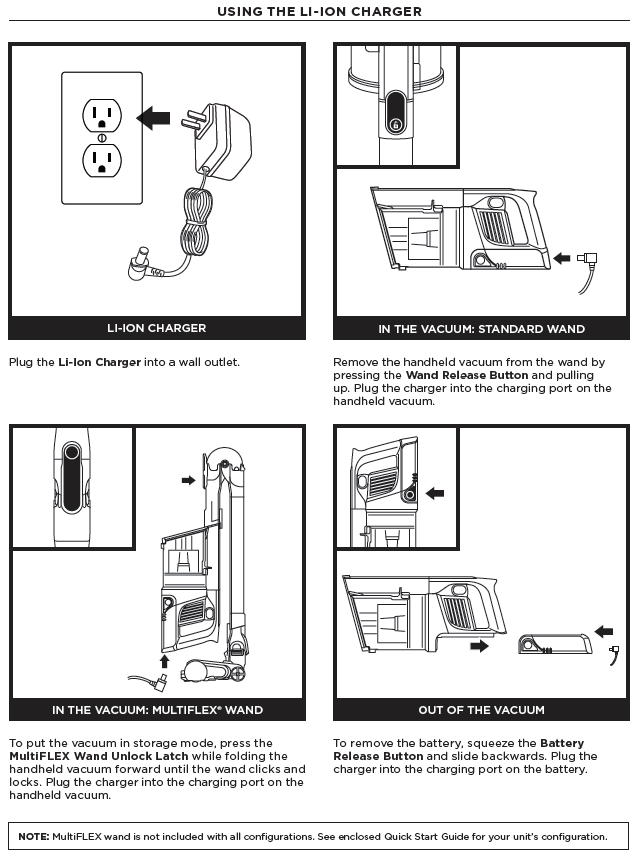 How long will the battery run?
The initial charge on the pack (out of the box) is approximately 30%. We recommend fully charging the battery before initial use.

These runtimes are based on 100% capacity:
Handheld vacuum only mode: approximately 40 minutes
Handheld vacuum only with BOOST mode: approx. 10 minutes
Bare Floor mode: approx. 25 minutes
Bare Floor mode with BOOST: approx. 10 minutes
Carpet mode: approx. 20 minutes
Carpet mode with BOOST: approx. 10 minutes

Like all lithium-ion products, the battery will naturally decrease in capacity over time.
The battery seems to have shorter runtime than expected. What should I do?
Out of the box, the initial battery charge is approximately 30%. Charge the battery completely (approximately 3.5 hours) before using and after each use.

Note that battery runtime is affected by the duration of use and the type of surface being cleaned. For example, vacuuming a thick carpet in Boost mode will reduce runtime faster than vacuuming bare floors.
What do the lights on the battery mean?
Bottom LED light is flashing (Fig. A): Battery needs to be charged
Top and bottom LED lights are flashing (Fig. B): Battery temperature is not optimal, so charging is temporarily paused. Leave battery plugged in and charging will resume soon.
If top 2 or bottom 2 LED lights are flashing (Fig. C, Fig. D), call Customer Service.
What if the battery is warm to the touch or indicates that it's too warm to charge?
The battery may feel warm in use, which is completely normal, as its temperature will rise slightly as it discharges. If the battery feels uncomfortably warm, stop using the vacuum and allow the battery to cool. If the unit stops working, check the battery indicator lights for any error messages.

If the battery is too warm after use, the charger will pause until the battery cools before it begins charging.